I always wanted to build a new house and I finally did this last year. I built a Tiny Duplex as It is only 1100 square feet, no basement, and each unit is about 520 square feet, 1 bed, 1 bath, open kitchen/living room. It is a one story rambler, so I was able to build it with just one framer and me helping as labor. Then I finished it off with a carpenter inside.
We did the insulation and sheetrock, tile as well. I hired a contractor to polish the slab and that turned out really well, I like that look. That was one of the pleasant surprises. I would have liked to do hardwood floors, but I just didn't want to add another layer on the slab and it ended up being like $8,000 cheaper to do polished concrete so I just went with it. I did R-21 mineral wool insulation, 2 by 6 wall studs with a smart smart vapor barrier. I liked the mineral wool a lot. It is easy to install and I like it a lot better then fiberglass. If I did it again I would have two people helping because it does take some time.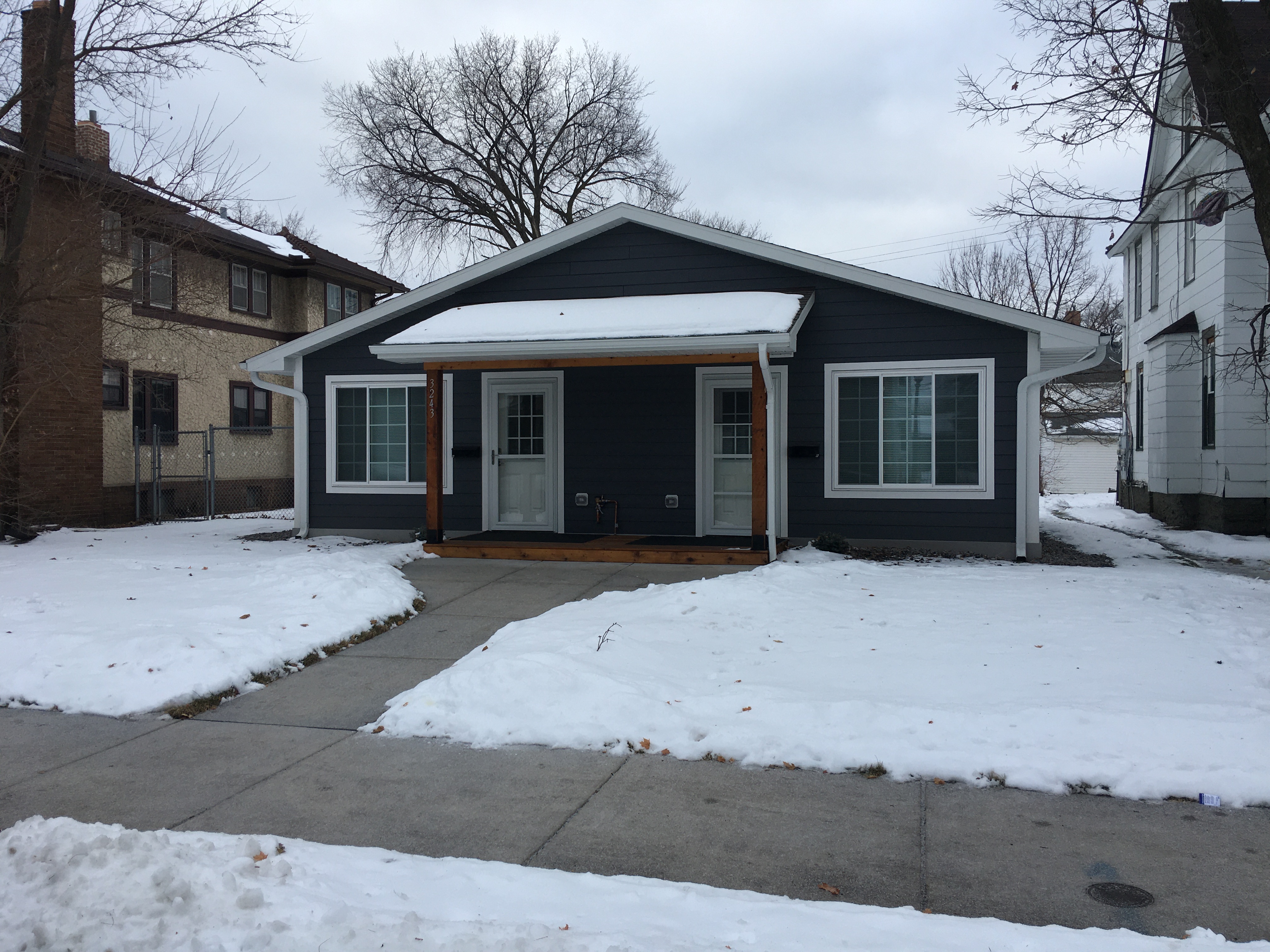 We ended up installing the LP prefinished siding, which I really like. Those boards just looks so good and it is pretty straight forward to install. We installed 30 year roofing singles, triple plane vinyl windows, aluminum soffit and facia as well. If I did the windows over I would do casements. I was going to do that, but I changed my mind at the last minute. I don't like the sliders as much.
Literally everything on the house I touched, picked out at the store and paid for. The HVAC, electrical, plumbing, foundation and excavating work was done by licensed contractors as well. It was a huge learning experience. I felt like I was drinking from a firehose while I was building it. I have such a better understanding of how to build a home from scratch and the construction process now. I understand existing homes better now as well. I can pretty much envision what any house would look like if you removed the sheetrock or the exterior siding.
The same summer I started building the duplex I also bought a foreclosed home It just happened to come to the market and my wife and I were looking for a place just like it, in that specific location so I ended up getting it. It is like a duplex because the previous owners had remodeled the upper level so it had two bedrooms, a bathroom, living room, and kitchen upstairs. In addition, the main level had a kitchen, two beds, living room, dining and bathroom and a full basement Plus the upper level had its own interior and exterior door so you could enter through the back door and walk up the stairs into the unit without entering into the main level unit.
We ended up remodeling the upper level first and then finished the lower level. If I was to do it again I would do both at the same time. I also would hire a couple guys to do the demo work, maybe 3-4 guys and get it done really fast. I ended up doing 100% of the demo work upstairs and downstairs and most of the other work as well with my wife and a carpenter. In the end, it took a long time doing all the work, but I did learned a lot. We installed the tile work, installed and refinished the hardwood floors, did the sheetrock, and put together the cabinets from Ikea. I like the Ikea drawer cabinets. The cabinets I did on the main level I wouldn't do again. They look the same as Ikea but they don't have drawers. Lessoned learned on that one.
I was really attempting to try all the different trades so I could see how everything was put together. I had done a lot of reading on building science over the previous 12 months. I had remodeled a number of homes similar to this one over the past years, but subbed most of the work out on those. So I wanted to get my hands a little more hands on. I always refinish my own hardwood floors because I used to refinish hardwood floors for 8 years everyday. That is the one thing I can do well when it comes to the trades. I ended up liking tile as well, didn't mind installing sheetrock, installing the insulation isn't that bad either, I like siding.
I was building tiny duplex and remodeling "Columbus" at the same time. It was a lot of labor, too much really, it took about a year to finish all four units, plus I built the detach garage at the duplex. If I did it again I would sub out most of the work and I would do the general contracting. I would get it done faster this way. When I was doing so much of the labor I got tired easier, quicker, and when I was doing all that labor each day, it does take a toll on your body. In the end, both projects turned out good though and I am glad they are done so now I can relax.
If I did another duplex I would do a two story because I like having light on four sides. I think knowing what I know now, if I built a one level home I would do a similar foundation layout, which was 32 by 32, but I would add a basement and make it a single family instead of a duplex. I would build a 2 bed, plus den, 2 bath, open layout and I think that would be a really nice house.
So do I like new construction or remodeling better? I like new construction because it is all new and starting from zero. It is good experience to see it get put together. But I like remodels because most of the work is just cosmetic, the foundation and the major stuff is already done, a lot of times it can be quicker and easier. For me it comes down to the cost and the location of each project. I would rather have a remodeled house in a nicer area versus a new construction home in not as great of an area. But if you build in a nice neighborhood, then the total project cost is going to be higher because the land price will be higher. The construction costs will be about the same since you are building the same building, just in a different location. So I guess it depends on the deal. I want to do a deal that I can do well on with the construction and the total cost relative to total value.