If you're tired of the same rotations of navy lawn chairs at your local Home Depot, or you're looking for a gift for a friend that has a certain charm, look no further than Junket: Tossed & Found on Minnehaha Avenue in Longfellow. Like peanut butter on burgers, retro is in.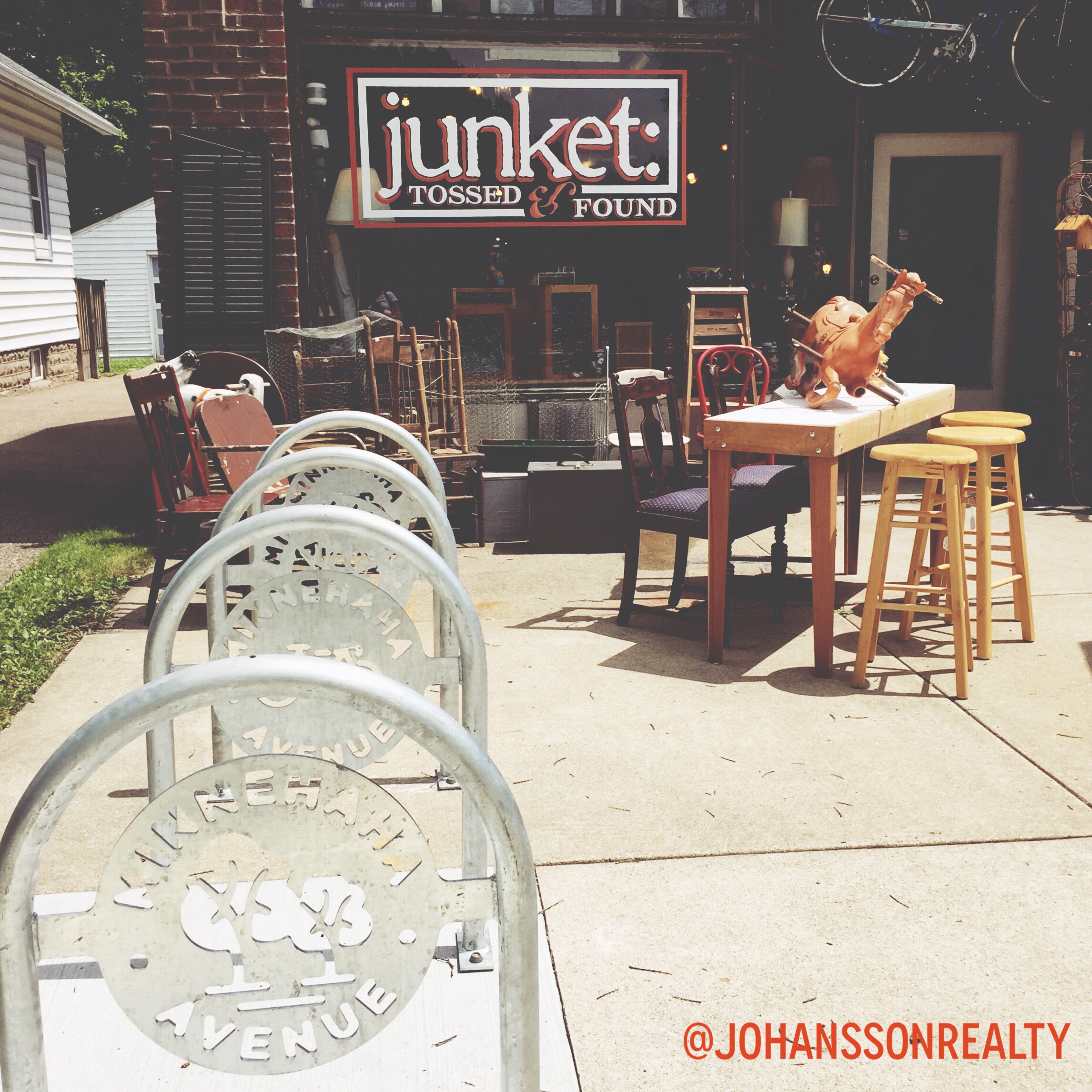 I've always had a soft spot in my heart for vintage shopping, and every piece I've scored from local shops always gets compliments; not to mention, it's unique and is bursting with character. Junket is among many other resale, vintage, and antique home and clothing goods shops along the Minnehaha Avenue stretch (AKA The Minnehaha Mile), but Junket's location seems to always catch my eye whenever I drive by. Perhaps it's its prime location on the corner just across from a little pocket of green space. Or maybe it's because they always have such a great outdoor showcase outside of their front doors (weather-permitting, of course). Regardless of why it catches my eye, Junket is an awesome place to be.
When you step inside the space, it's like walking into Willy Wonka's factory, except that instead of chocolate and candy, you are greeted by whimsical colors, fabrics, and everything in between (though they do tend to have donut holes and coffee on occasion for customers). It is a wonderland of Pinterest-worthy gift and decor ideas. Many of the items for sale are truly vintage, but others have been repurposed and reworked into a new piece of art, like the stack of old cookie tins that have been repainted and branded with a clever quote.
The entrance is just the beginning, though. Take a detour to the left and you come face to face with clothing, jewelry, and accessories from every retro time period you can imagine. Curve around the corner and head down the steps and you've entered a basement complete with buckets and tabletops organized by theme; some have old glass doorknobs (which, by the way, are a great way to spice up a boring dresser), others are piled high with antique maps, and still other drawers are filled with a random assortment of photography negatives from all around the country. It's eclectic and fun, and you can easily lose yourself in the quaint history of it all.
The next time you're looking for a new lamp for your living room, or for a new print to frame, instead of jumping on the usual Target train, why not head over to Junket to see if you find something interesting and distinct? It's sure to make for a great conversation starter. Plus, you're shopping local - what could be better than that?!
P.S. we've got a listing coming to the market just down the street - you could walk down The Minnehaha Mile ANY day of the week. Give us a shout if you'd like a preview showing!
Guest post by Megan Warner